Redditor's Request:

Solutions:

Best Choose – Thermos Stainless-Steel Backpack Bottle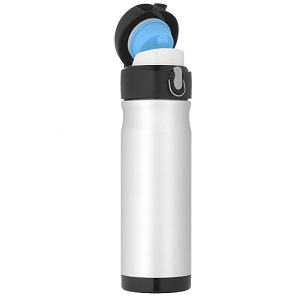 Thermos Nissan 16-Ounce Stainless-Steel Backpack Bottle
Price: $28
Buy On Amazon | Official Website
Why this?

I loved mine UNTIL I realized you can't fully take apart the lid for cleaning. If you do not have a dishwasher this is NOT acceptable. It will get very gross and unsafe in a very short amount of time. I don't use cream or sugar in my coffee and still had problems with it.
For those without a dishwasher I recommend this one from Thermos, it fits in my cupholders, is operable with one hand, can be locked for throwing in my bag, keeps my coffee hot from 8am until 6pm (if I don't get around to drinking it), never leaks, and all the seals can be removed for easy and thorough cleaning.
Other Chooses:

wwabc suggests contigo autoseal in his comment.
eclip5e suggests OXO Good Grips LiquiSeal in his comment.